Montessori Prep is offered for children ages 18 months (12 months at our Warminster location) through three years.  In our Prep program, toddlers are introduced to the initial Montessori environment and materials that stimulate their natural desire to learn.
The activities in the Prep environment are designed to enhance the development of independence and self-help skills.
Children in the Prep program may choose to attend for afternoons as well.  The Prep afternoon program includes lunchtime, nap, and social interaction.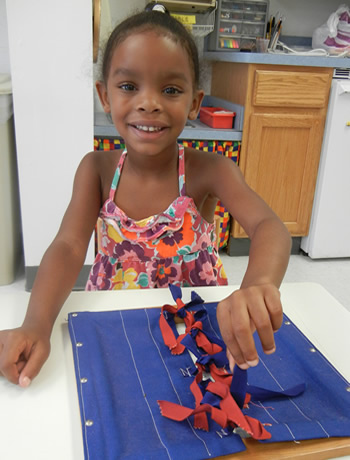 Montessori Primary is offered as a five-day morning or full-day program for children ages three through six.  Teachers observe and guide the children as they explore language, geography, math, science, sensory awareness and practical skills of everyday living.
Outdoor play, art, nature, cooking, foreign language and science activities complement the afternoon curriculum.
Kindergarten is a full-day program offered for children ages five and six.  Mornings are spent working with advanced Montessori materials in the mixed-age classrooms, while afternoons are held in a specially-designed Kindergarten classroom.  Kindergarten students further their skills in reading, creative writing, math, science and geography.
The Kindergarten program is licensed by the Department of Education, and provides excellent preparation for the first grade.  Transportation is available for Kindergarten children through the public school districts.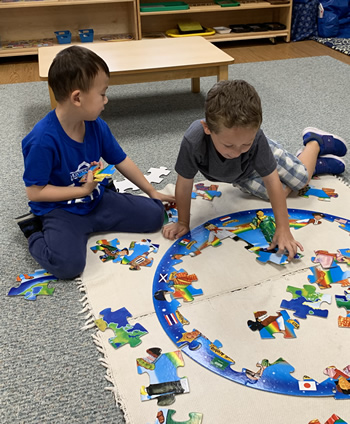 Supplemental Care is available for all Montessori students both before school from 7:30-9:00am at both locations and after school at both locations from 3pm-6pm to meet the needs of working families. The children are involved in outside play, arts and crafts, story time, group activities and games.
The word summer triggers a sense of freedom in children, a chance to have fun and discover in a relaxed and enjoyable atmosphere. Our mission at Camp Discovery is to enrich the physical and social life of each camper in an environment consistent with Montessori principles. We will inspire, challenge and excite campers as they explore new adventures and develop lasting friendships.
Explorers (18 months at Blue Bell and 12 months at Warminster – 3 years)
The Explorers will enjoy a wide variety of activities which build confidence and encourage cooperative play. Our busy day is filled with arts and crafts, water play, music, exercise, games and more with rest time in between.
Adventurers (3-6 years)
Trained Montessori teachers and counselors guide the Adventurers to choose from a well-rounded selection of camp activities, including sports and games, arts and crafts, music, exercise, gardening, water play, performing arts and cooking. Throughout the summer, the children will have the opportunity to spend time exploring the Montessori environment, working with materials appropriate for their age and skill level.